King Charles Cavalier Puppies For Sale
These are all the puppies we currently have waiting for adoption. Unless they are marked 'SOLD' or 'ON HOLD,' all of them are ready to come home with you today! Regardless of the final price, the deposit for all of our puppies is $350. If you wish to reserve one of our puppies, please click the button and you'll be taken through the payment process.
Our puppies are temperament tested by an independent puppy trainer who also writes all our puppy descriptions. All descriptions are accurate! Interviews with the puppy trainer about the puppy of your choice are available upon request. Click on MEET PARENTS below to see your puppy's temperament description.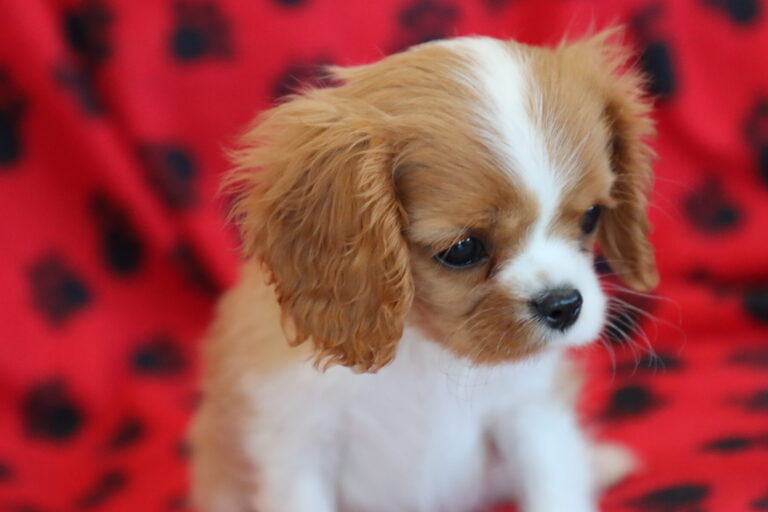 Female, Blenheim
Birthdate: 09/27/2023
10 Weeks Old - Ready to adopt 11/29/2023
Adopted King Charles Cavalier
King Charles Cavalier Puppies For Sale
Welcome to our world of cuddly, playful, and adorable King Charles Cavalier puppies. Steeped in a tradition of love and care since 2003, we are a family that's passionate about raising Cavaliers that become an integral part of your life. Bringing joy, laughter, and comfort to families across the United States, our commitment is reflected in the health, temperament, and lineage of our puppies. Our Commitment to Excellence
Our King Charles Cavaliers puppies come with great health, superior temperament, and impeccable lineage. We hold our breeding process to the highest standards. Our puppies aren't just adorable; they come from a foundation of strong health. Every parent is AKC registered and has undergone OFA heart and patella/knee certifications. Not just that, we're diligent about testing for Dry Eye Curly Coat Syndrome (CKCID) and Episodic Falling (EF). When you bring home one of our puppies, you're investing in a lineage, many of which even have champion bloodlines.
More Than Just a Transaction
When you look at our available puppies, know that their descriptions are spot-on. They are temperament tested by an independent puppy trainer, ensuring that what you read is what you get. If you have questions or wish to dig deeper, interviews with the puppy trainer are always available. We want you to be completely informed about your future pup.
Each pup's deposit is set at $350, making the reservation process streamlined. Once the deposit is settled, the final steps are simple and smooth.
Health and Trust Go Hand in Hand
As breeders, we shoulder an immense responsibility. We believe in breeding puppies free from genetic defects. That's why all our canine parents are health tested. When you choose one of our puppies, they come with AKC limited registration and a one-year health guarantee. Our health contract ensures that you're not just getting a pet, but a healthy family member.
We Deliver King Charles Spaniel Puppies Anywhere in the United States
Although you're welcome to pick up your puppy from our headquarters, we can deliver our dogs to any corner of the United States, making sure your new friend reaches you safely and comfortably.
To learn more about our Cavalier King Charles Spaniel puppies for sale, contact us at your convenience.